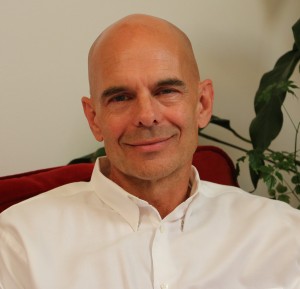 BRIEFLY:  I discovered psychology when I was 18 years old and have remained fascinated by understanding and helping people ever since. I completed my Ph.D. in Clinical Psychology over 30 years ago and have been in private practice in Vancouver for over 25 years. I was a professor at the University of British Columbia and then at Simon Fraser University where I supervised clinical psychology students. At this point all of my practice is psychotherapy/counselling, but in the past a major part of my work involved assessing families involved in the court system and providing expert witness testimony to the courts.
PRIVATE PRACTICE:  My orientation to working with people draws from many different theoretical approaches, is strongly informed by current research, and emphasizes respect and compassion for people.  My approach is flexible and tailored to the individual needs and desires of each person I work with.  I blend my expertise in the approaches and methods together with the feelings, comfort, and beliefs of each client.  I provide people with plenty of feedback regarding my impressions such that each person is able to make informed decisions about their therapy. I recommend reading and other activities that can be done between sessions in order to maximize the benefits in as short a time as possible.
CREDENTIALS & EDUCATION
I obtained my Ph.D. from McGill University in 1985 with specialization in both Clinical Psychology and Biological Psychology. Prior to this I completed my M.A. in psychology at McGill and obtained my Honours B.A. in psychology from Concordia University, graduating Summa Cum Laude. I received several undergraduate, graduate, and postdoctoral scholarships from universities and from the federal and provincial governments. My Ph.D. program was approved for training in Clinical Psychology by both the Canadian Psychological Association and the American Psychological Association. Following my Ph.D.  I was a Postdoctoral Fellow at the University of British Columbia. I was subsequently on  faculty as a professor at both UBC and Simon Fraser University. I continued as a Clinical Associate of SFU where I supervised doctoral students in the Clinical Psychology program and conducted research for many years, ending this relationship in 2003.
I am registered to practice with the College of Psychologists of B.C. (Registration: #00953) and have an appointment as an Oral Examiner for new applicants to the College.  I am also a member of the British Columbia Psychological Association, the Canadian Psychological Association, and  the American Psychological Association.
I am a Certified Play Therapist (Supervisor Level, #470) with the Canadian Association for Child and Play Therapy. In the past I was a Registered Play Therapist – Supervisor, with the U.S.-based Association for Play Therapy, but switched my affiliation to the Canadian Association. I am a long-time member of the British Columbia Play Therapy Association.
I have been qualified as an expert witness in both Provincial and Supreme Courts in B.C. as an expert in the assessment and treatment of children and adults, and in family relationships.
While many therapists are not willing to answer questions about their lives, I do my best to be transparently open. I believe that when clients are being encouraged to be completely open and honest with a therapist, it is quite reasonable to want to learn a bit about the person you are being open with.  You are welcome to ask me anything, and thus far I have never declined to answer.
You may request a copy of my Curriculum Vitae which provides further details of my education and credentials, and lists research grants (three), journal articles  (twelve), book chapters (four), and conference papers (twenty-one) that I have authored or co-authored. It also details my areas of internship training and extensive post-Ph.D. continuing education.
A Note Regarding Client Testimonials:  Although potential clients may sometimes wish testimonials from previous clients, I would consider it unethical to ask my clients for these, and indeed Registered Psychologists are not permitted to do so.   I am able to tell you that a substantial part of my practice comes from clients being referred to me by previous clients or by other health and mental health professionals.  I encourage people looking for psychotherapy to search websites where clients post reviews of their experience with individual psychologists (e.g. ratemds.com) and weigh this in making a choice.
Privacy Policy: Visitors to this website can expect extreme measures to protect your privacy. If you are simply visiting the site (not leaving posts or registering for courses) then no personal information is collected. If you leave contact information (such as an email address) that information is not shared with any person, company, or agency. You are encouraged to use a secondary, non-identifying email address if you have any concerns about this. I avoid collecting any information that may reveal your identity. Any data collected through responses to questionnaires, etc., is used purely to benefit you and others wanting to benefit from using the website. No data is provided to any other person, company, or agency, and this website will not use any information you provide for financial benefit or for any reason other that to benefit you and other users.