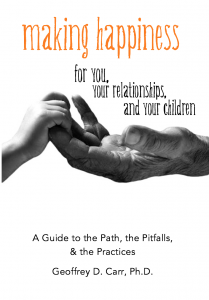 If you have ever wanted to make sense of all of the confusing and conflicting advice for increasing your well-being, improving your relationships, and nurturing happy children, I wrote Making Happiness for you.  It provides a deep understanding of why we struggle and practical direction for creating genuinely happier lives. Below you can find the Table of Contents, and  endorsements. You can also read  the final chapter which provides an overview of the book.
"Making Happiness: for you, your relationships, and your children"
All proceeds from the sale of this book are used to support the Feel Good for Free potion of the website. If you would like to read the book but are unable to afford one, please contact me and I will send you one free (ebook).
You can purchase it through me as a soft-cover trade paper edition ($20.CAD), or as a PDF or ePub e-book ($10.USD) you can read on most e-readers.
Please contact me if you have any problems with your purchase.
Making Happiness ePub eBook for Kobo, Kindle Fire, iBooks, Google Books, Adobe Digital, Sony, and Blackberry
$10.00
Making Happiness PDF
Full PDF of the bound version of Making Happiness
$10.00
Table of Contents
SECTION 1: Happiness and its Obstacles 11
CHAPTER 1. Happiness 13
It's Not Working 14
We Can Become Happier 16
Happy People 17
Responsive Aliveness 20
Self-Acceptance 21
Acceptance of Others 22
Freedom from Fear 22
Agency and Responsibility 23
Physically Healthy 24
Unity, Faith, & Meaning 24
Where Do We Go From Here? 26
Dimitri's Story: When Everything You Want is Not Enough 28
Conclusions 29
CHAPTER 2. Childhood Trauma & Attachment 31
Traumatic Stress 32
Fight, Flight, & Freeze 33
Trauma's Life-Long Legacy 37
Trauma and Avoidance Behavior 39
What We Can't Remember Can Still Hurt Us 43
Why Is Trauma in Infancy and Early Childhood So Potent? 45
Facing the Reality of Childhood Trauma 48
Sensitivity and Awareness in Babies 49
General Awareness 50
Pain Sensitivity 51
Learning and Memory 52
What Traumatizes Babies and Children 54
The Trauma of Birth 61
"Memories" of Birth 62
Traumatizing Birth Practices 64
Parents, Trauma, and Attachment 67
Patterns of Parenting & Patterns of Attachment 72
Conclusions 74
CHAPTER 3. The Life-Long Legacy of Early Trauma 77
The "Stop" Feelings: Fear, Shame, and Pain 79
Flashbacks & Intrusion: Coloring Your World 82
Avoiding: Defenses Against Feeling 87
Disconnection from Ourselves 88
Avoiding, Controlling, and Judging the World 90
Fight, Flight, or Freeze 92
Addictions 94
Pride and Blame: Defending Against Shame 95
Disconnection from Others: Avoidance and Fantasy 98
Shame, Self-Hatred and the Fantasy of Connection 101
Illusions of Security 106
Conclusions 107
Here I Am Again – Trauma Repetition 107
Playing with Fire – Trauma's Excitement 108
Selection, Interpretation, and Provocation – Recreating our Pasts 110
Our Enduring Patterns of Attachment 113
Early Trauma and Later Mental and Physical Health 115
Anxiety and Sleep Disorders 118
Pain Disorders 119
Depression & Mania 119
Psychosis and Schizophrenia 120
Addiction 122
Anger and Violence 122
Attention Deficit Hyperactivity Disorder 122
Post Traumatic Stress Disorder 123
Personality Disorders 123
Physical Health 123
Dimitri's Story: Pain Amidst Plenty 124
Conclusions and Reflections 126
SECTION 2: MAKING HAPPINESS 129
CHAPTER 4. The Path to Happiness 131
Our Situation 131
What Has to Change 133
Pitfalls on the Path 135
Description or Prescription 135
Going Up or Going In 136
Evolution, Not Revolution 137
Practice the Practices 138
CHAPTER 5. Facing Our Feelings 141
Nurture Self-Compassion 142
Unconditional Self-Acceptance 143
Self-Compassionate, Not Irresponsible 147
Self-Compassion, Not Self-Pity 147
Self-Compassion, Not Pride 149
Justifications for Self-Hatred 152
Practicing Self-Compassion 154
Face Our Fear 158
Wisdom 159
Exposure 160
Gradual Exposure 161
Courage 162
Relaxing and Calming 163
Approach the Feeling 164
Self-Compassion 165
Supportive Connection 166
Facing Our Ultimate Fear 166
Grieving Our Pain 168
The Practice of Grieving 171
Summary and Conclusions 173
CHAPTER 6. Stop Avoiding: Close the Exits! 175
Accept What Is 175
Resisting Reality 176
Accepting "What Is" 178
Accept Responsibility 181
Responsibility for Our Perceptions 182
Responsibility for Our Feelings 182
Responsibility for Our Behavior 184
Responsibility for Other's Behavior 185
Use Anger Constructively 187
Anger is Healthy and Useful 188
Anger is Not Violence 188
Responsibility for Our Anger 189
Presence With Our Anger 190
Express Anger Responsibly 191
Releasing Anger Non-Violently 192
Summary and Conclusions 194
CHAPTER 7. Coming Alive 197
Feel What You Feel 197
The Practice of Wise, Compassionate Presence 202
Express Your Truth 210
Follow Your Desires 214
Sacrifice, Not Indulgence 216
The Virtue of Following Desires 218
Dimitri's Story: Remembering Happiness 221
Summary and Conclusions 223
CHAPTER 8. Making Happy Relationships 225
Cultivate Compassion for Others 227
Practicing Compassion 234
Express Your Truth Responsibly 242
Responsibility for Our Feelings 243
Final Tips for Responsible Expression: 244
Summary & Conclusions 249
CHAPTER 9. Happy Intimate Relationships 251
Hi Mommy! Hi Daddy! 252
Never Blame Our Partner for Our Feelings 255
Our Partners are Responsible for Their Feelings 257
Unconditional Compassion 258
Acknowledging Our Partner's Experience 258
Supporting Our Partner's Desires 260
Vulnerably Revealing Ourselves 260
Appreciation & Affection 263
Giving and Receiving Feedback 266
Time & Talking 268
Dimitri's Story: After the Crash 270
Conclusions 272
CHAPTER 10. Raising Happy, Healthy Children 275
Principles of Healthy Parenting 276
Wanting and Enjoying Children 278
Empathy and Responsiveness 282
Protection 287
Offering Wisdom and Discipline 288
Happy Parents, Happy Children 319
Special Play Time 324
Dimitri's Story: The Next Generation 325
Conclusions 326
CHAPTER 11. The Big Picture 328
REFERENCES 333
Professional Endorsements
There are some great books out there that have made an attempt to put all the pieces together for us mortals. A Brief History of Time (Hawking), A Brief History of the Universe (McEvoy), even A Brief History of Everything (Wilbur). Geoffrey Carr's book could aptly be titled A Brief History of Everything That Matters, though Making Happiness is no less a fitting title for this successfully ambitious guide to getting the most from one lifetime. Put this at the top of your book pile and read it first. Everything underneath it will make a LOT more sense. Rick Lewis, Author of The Perfection of Nothing and 7 Rules You were Born to Break.
Making Happiness is a brilliantly written book, offering up an understanding of the foundation of true happiness. It is a highly accessible read that will be of interest and deep value to people of all walks of life. It is an invaluable guide to relationships: those we have with others and those we have with ourselves. Scientific research and deep wisdom from across a wide breadth of disciplines, integrated with practical suggestions for healing and growth is what makes Making Happiness unique. It is a book I have long waited for that will serve as a life-guide for therapists, clients and people who are neither. As Dr. Carr wrote, he has reached for a lofty goal in writing this book; he certainly doesn't disappoint.  Dr. Sheryl Tanco, Psychologist
The product of decades of dedicated investigation and work with clients, this book is highly recommended for people who want to make substantive gains in personal meaning and fulfilment. A rich and comprehensive synthesis, it serves as a practical and comprehensive manual for self-awareness, and enhancing relationships and family life.  Bennet Wong, MD, FRCP(c), DLitt and Jock McKeen, MD, LicAc(UK), DLitt (co-Founders, The Haven Institute)
Making Happiness is ground breaking not only because of its provocative message that the source of human unhappiness lies in early trauma but also because of its lucid description of a realistic path to genuine health. I'm deeply grateful for how this book has helped me to feel rather than avoid my own feelings and to assist my clients to do the same, enhancing my personal well-being and therapeutic effectiveness.  Dr. Paul James, Psychologist